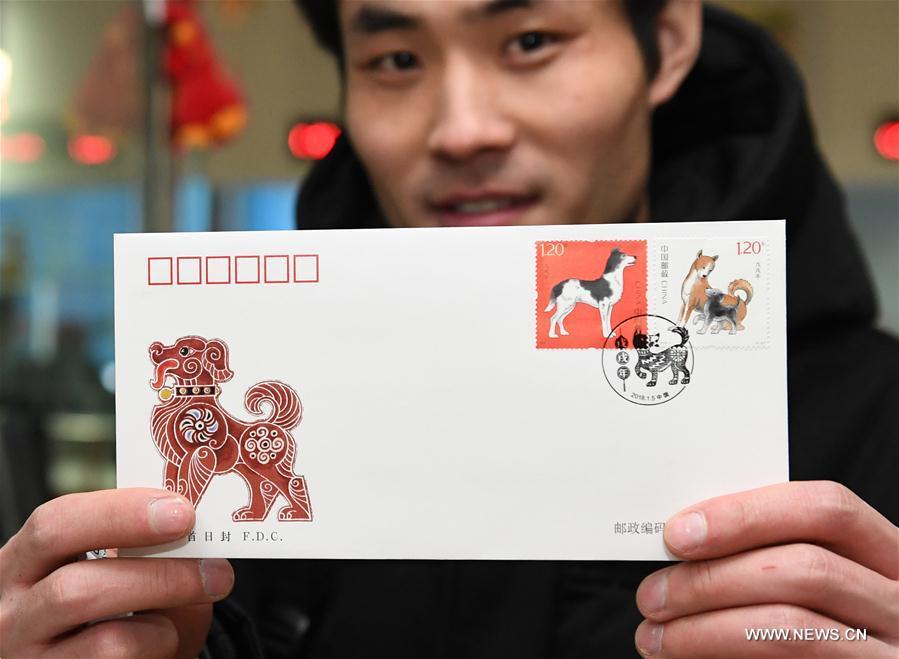 A customer shows a first day cover with the newly issued zodiac stamp in Xicheng District of Beijing, capital of China, Jan. 5, 2018. China Post issued a set of special zodiac stamps for the Year of Dog with two different designs Friday. The Year of Dog, or Chinese traditional lunar New Year of this year, starts from Feb. 16. (Xinhua/Li He)
Recently, China issued a set of zodiac stamps to celebrate the upcoming Chinese Lunar New Year of the Dog.
The theme for this round of zodiac stamps is "happy family," and the new stamps depict Chinese domestic dogs.
The year 2018 marks Chinese "Wu Xu Year," the Year of the Dog.
In fact, not only zodiac stamps, elements of Chinese New Year can be found in many forms of Chinese folk arts.
Zodiac stamps for Year of the Dog
China Post says the first stamp depicts a male dog with its chin up and its eyes straight ahead. Its two ears point upward, while its hind legs are forcefully thrust against the ground, ready to pounce on any intruders.
The second stamp shows a brown bitch lovingly gazing at its puppy. The black puppy holds its head up high and tries to stand straight. The mother and the puppy stand side by side, demonstrating maternal love.
The two stamps are connected, signifying a peaceful, harmonious family, and a prosperous, flourishing nation.
Let's block ads! (Why?)