Nile Rodgers is to take up a new role at Abbey Road Studios – home to some of the most revered albums of all time.
The disco legend will be the studio's chief creative advisor – nurturing new talent, as well as recording with some of rock and pop's biggest artists.
The 65-year-old, who is recording a new Chic album, will also use the studio as his primary creative base in the UK.
"Come on, it's Abbey Road!" he told the BBC. "The Beatles made all their stuff here."
The star, whose hits include Chic's Le Freak, Madonna's Like A Virgin, David Bowie's Let's Dance and Daft Punk's Get Lucky, said the studio held a certain magic for artists the world over.
"One thing that all musicians are, is they're all superstitious," he said.
"When we made [Chic's] huge string of hits at the Power Station in New York, people would fly from all over the world just to record there.
"But Abbey Road is Abbey Road, man.
"Every day I come to work, there's always somebody out there recreating the zebra crossing scene [from The Beatles' Abbey Road album cover]. Every single day."
Rodgers said he'd "dreamt" of working at the studio ever since he heard The Beatles' I Want To Hold Your Hand – but said there was more to the space than its hallowed history.
"People think of Abbey Road as a classic old-school studio, but they're spending a huge amount of calories, if you will, on new technologies.
"I want to be where that new stuff is happening – because I'm an audio fanatic and I want my new stuff to sound amazing."
Over the last few months, Rodgers has brought the likes of Bruno Mars and Disclosure to the studios to work on his new music.
British soul singers Jorja Smith, Ray BLK and Nao have also laid down vocals for Chic's new album, as has US rapper Anderson .Paak.
But not all the music is destined for Rodgers' own project.
"When I finished with Jorja, we got along so great that the very next day, I got a text saying, 'Can you please send over some of that cool, jazzy guitar stuff you were playing so I can make some more songs out of that?'
"So what's great about this is a lot of the artists I'm working with are going to be on the Chic album – but a lot of stuff is going to be for their albums, too."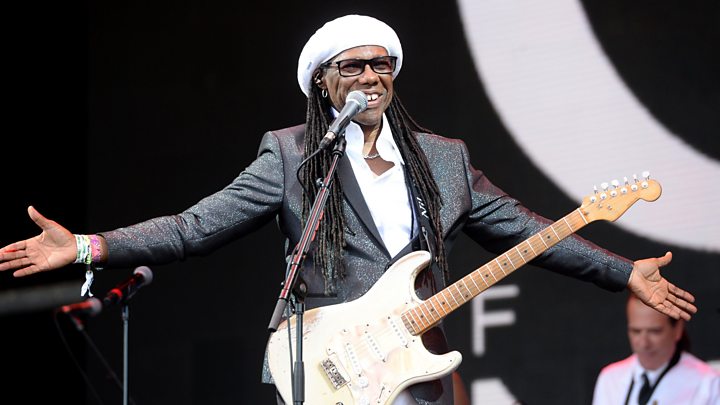 Rodgers' appointment comes a day after it was announced that Chic's Le Freak would be preserved for posterity on the US National Recording Registry.
"I couldn't believe that," beamed Rodgers. "It's pretty amazing."
The star also remarked on the song's changing fortunes over the years.
Despite being the biggest-selling single ever released by Atlantic Records, Le Freak was targeted by the tacitly racist "disco sucks" movement of the late 1970s before resurfacing as a dancefloor classic.
"How funny is that?" he reflected. "All the bands that they were pushing at the time, not many of those bands are getting these types of accolades.
"I mean, we played President Obama's last party, two days before he left office and the party lasted until six o'clock in the morning!"
Follow us on Facebook, on Twitter @BBCNewsEnts, or on Instagram at bbcnewsents. If you have a story suggestion email entertainment.news@bbc.co.uk.