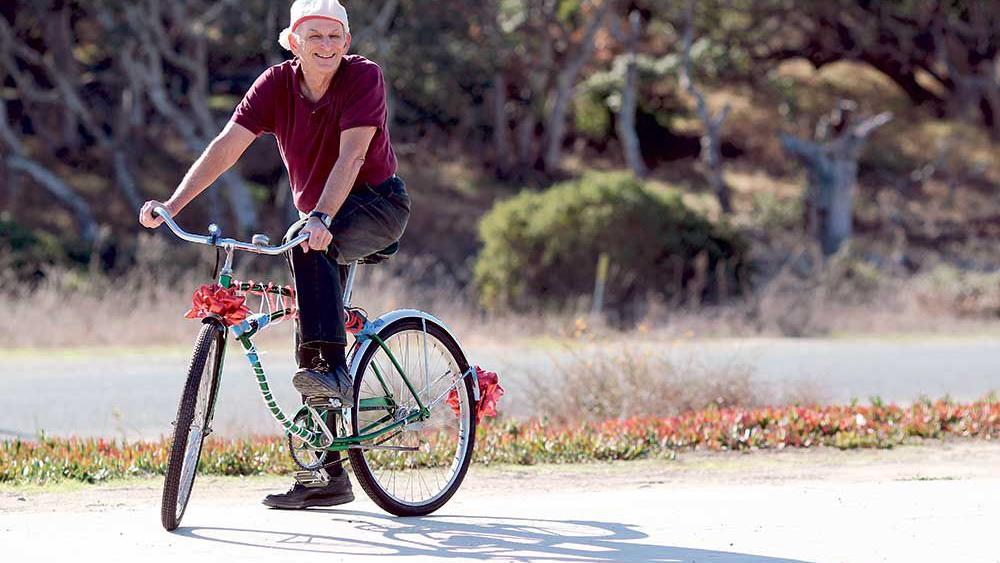 Maybe you've seen, or been in, or heard of, Critical Christmas. The carefree event in which participants don Santa hats and costumes, decorate their bikes with holiday lights and glo sticks, and go for a nighttime group ride while ringing bells and blowing noisemakers.
It has an interesting backstory.
It's been going on locally since 1998. That's according to one of its six founders, Jim Wrona, who is organizing its 19th iteration this Sunday, Dec. 17.
The name is a play – but not a critique – on the popular and polarizing Critical Mass bike rides in San Francisco. But the idea was inspired by the Christmas Truckers Parade in Humboldt.
"Semi-trucks won't work here," Wrona told himself. "But we can do bikes."
They started meeting at Lovers Point in Pacific Grove, but it was too "dark and desolate." So they moved to Custom House Plaza and rode the Rec Trail to the Aquarium and back.
Robert J. Tuscany dressed up as Santa and rode a Segway as the event's unofficial "pace car." He died, at 78, last month.
One year they were able to synch up with the lighted boat parade in the harbor, but the boats are based on the tidal forecast, whereas Wrona schedules Critical Christmas a year in advance.
It's free to participate, but one year Wrona sent out a notice that may still apply: "The organizer will graciously accept a pint of beer at the post-ride social gathering."
CRITICAL CHRISTMAS BIKE RIDE is 5:45-7pm Sunday, Dec. 17, starting at Custom House Plaza, near Fisherman's Wharf, Monterey. Free. 809-4190.
Let's Post Your Story on Open Magazine! https://news.artmotion.com/packs/