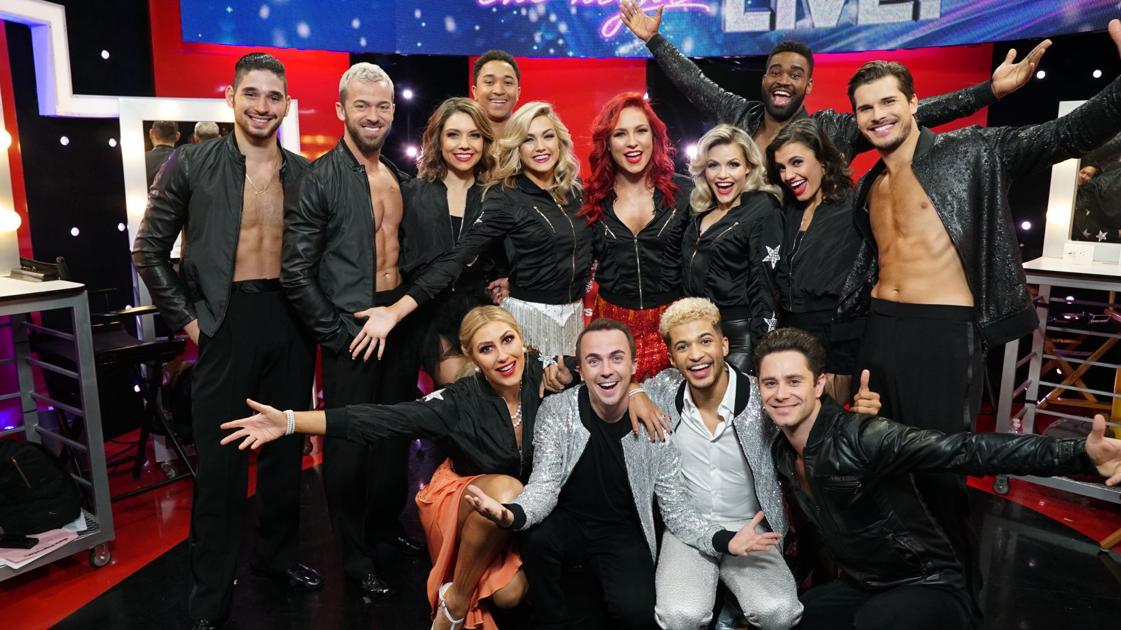 This past season of "Dancing with the Stars" was the most stressful yet for dancer Lindsay Arnold who won the coveted Mirror Ball trophy for the 25th season with her celebrity partner, singer and actor Jordan Fisher.
"It was different from any season I've had," said Arnold who is dancing with Fisher and fellow DWTS dancers in the tour "Dancing with the Stars: Live! — Light Up The Night." The cast performs at Altria Theater on Wednesday.
In addition to Arnold and Fisher, the show features actor and season 25 contestant Frankie Muniz and dancers Alan Bersten, Sharna Burgess, Witney Carson, Artem Chigvintsev, Keo Motsepe, Gleb Savchenko, Emma Slater, Sasha Farber, Jenna Johnson, Hayley Erbert and Brandon Armstrong.
In seasons past many of Arnold's celebrity partners had no dance experience unlike Fisher who knows his way around a dance floor.
"With Jordan from day one all the producers were saying he is going to be a great partner and that puts so much pressure on me," Arnold says. "That makes it hard to live up to that expectation week after week. I worried that I wouldn't be able to make the finals happen."
She was forced to think outside the box when she was choreographing dances for Fisher because of his skills. And, because of that, she was able to add in complicated moves that she had never attempted with other celebrity partners.
"I didn't have any limits. Jordan was down to do anything I asked of him," she said. "I had someone that really pushed me as a choreographer and I was becoming a better choreographer. I had to push myself and I really appreciate that."
Choreographing the dances is her favorite part of the process.
"I have to make sure that the dances are unique and individual to my partner so people will vote for us," she said.
The Monday before the Tuesday finale in November was an extremely stressful day for Arnold who wanted to ensure that she and Fisher perfected every move during the final night of competition.
"I was super calm on Tuesday until they were getting ready to announce the winner," she said. "It didn't really hit me till the next day that we won."
Arnold, who started dancing ballroom at age 8, was a contestant on "So You Think You Can Dance" during its ninth season. She says that being in that competition really prepared her for "Dancing With the Stars."
"I was the one being judged and critiqued. I was in the position of our celebrities," she said. "I know what they are going through."
During her time on "So You Think You Can Dance" she worked with many well-known choreographers who helped her hone her skills.
"I got to learn what I like and don't like and what works and doesn't work," she said of choreography. "I also learned how to adjust to change because everything on the show changes every minute."
The new live tour will be the biggest and "best yet," Arnold said. "For the first time we will have two celebrities and 12 dancers instead of 10. We're going to take elements of the live show and bring them to life. We'll also be adding new dances as well."
The two celebrities on tour — Fisher and Muniz — were fan favorites this past season. Both will be doing several dances during the show in Richmond. "It's really cool to see the fans react to them," Arnold said, adding that she and Fisher will be recreating their freestyle dance from the competition. "We are incorporating everybody into it making it a bigger production-like piece."
Touring, even though it's physically challenging, is one of Arnold's favorite endeavors.
"It's so much fun just to get to dance and show people our talents without being judged," she said.
Let's Post Your Story on Open Magazine! https://news.artmotion.com/packs/