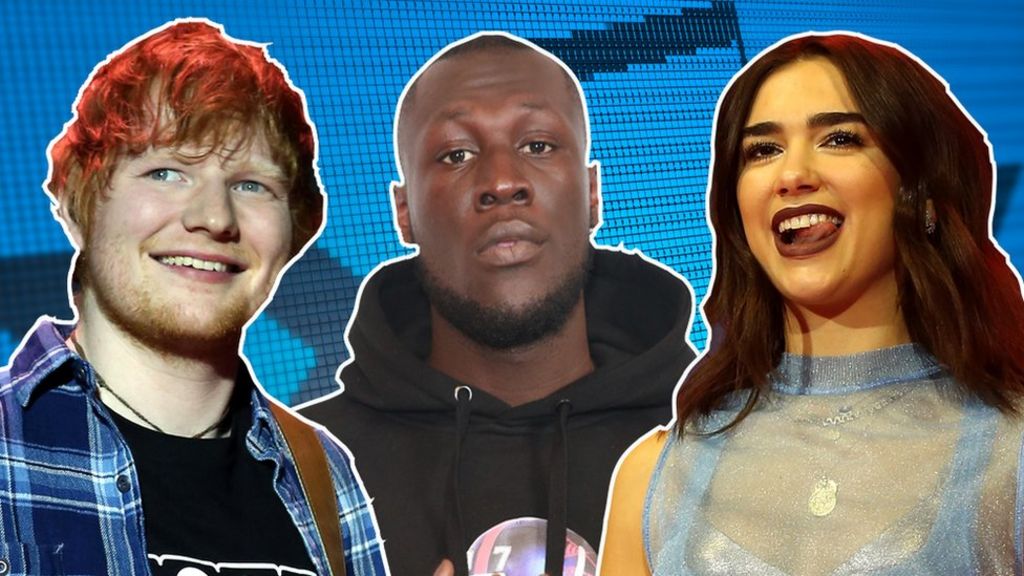 UK music fans streamed more music than ever before in 2017 – an astonishing total of 68.1 billion songs.
That's the equivalent of everyone in the country playing 1,036 tracks, or almost three continuous days of music, on sites like Apple Music and Spotify.
Most of those songs were apparently by Ed Sheeran – who had four of the Top 10 biggest-selling singles of the year.
Trade body the BPI says streaming now accounts for more than half (50.4%) of all music consumption in the UK.
The figure is up from 36.4% last year – with a record 1.5 billion streams served in one week last December.
To put that in context, we are now streaming more songs in a single week than we did in the first six months of 2012.
If anything, though, the BPI is actually underplaying the success of streaming, as it relies on data from the Official Charts Company, which does not currently count music played on YouTube towards its figures.
It has been estimated that if YouTube was included, the number of streams accessed by music fans in the UK would double.
Most-streamed artists of 2017
1) Ed Sheeran
2) Drake
3) Little Mix
4) Eminem
5) The Weeknd
6) Calvin Harris
7) Coldplay
8) Kendrick Lamar
9) Stormzy
10) Post Malone
Overall, sales of music generated £1.2 billion for the UK economy last year, according to the Entertainment Retailers Association.
At the opposite end of the technological scale, sales of vinyl continued to grow, with 4.1 million LPs purchased in 2017.
Again, Ed Sheeran was the most popular artist on the format – closely followed by Liam Gallagher and Amy Winehouse's Back To Black, which featured in the top five vinyl albums for the third year in a row.
CD sales down
However, vinyl only accounts for 3% of the overall music market, and its success is in stark contrast to the decline in CDs and downloads.
CD sales, which peaked at 162.4 million in 2004, now languish at 41.6 million.
Digital downloads are also on the way out, with just 13.8 million albums bought on stores like iTunes and Amazon last year, a drop of 23%.
Overall, music consumption was up by 8.7% – the biggest yearly increase since 1998.
Sales and streams contributed £1.2 billion to the UK economy, according to the Entertainment Retailers Association (ERA).
Apart from Sheeran, the UK's biggest artists included Rag N Bone Man, whose album Human shifted more than 885,000 copies by the end of the year.
Little Mix's Glory Days continued to sell well, while Pink and Drake were the best-selling international artists.
It was also a better year for new artists after a dismal 2016, where only one British debut album (Bradley Walsh's Chasing Dreams) went gold.
2017 saw the likes of Dua Lipa, Stormzy, Harry Styles and J Hus achieve the 100,000 sales milestone.
Top 10 albums of 2017 (combined sales and streams)
Artist
Title
1) Ed Sheeran
÷
2) Rag 'N' Bone Man (pictured)
Human
3) Sam Smith
The Thrill Of It All
4) Little Mix
Glory Days
5) Pink
Beautiful Trauma
6) Ed Sheeran
x
7) Michael Ball & Alfie Boe
Together Again
8) Drake
More Life
9) Liam Gallagher
As You Were
10) Stormzy
Gang Signs & Prayer
Top 10 vinyl albums of 2017
Artist
Title
1) Ed Sheeran
÷
2) Liam Gallagher
As You Were
3) Fleetwood Mac
Rumours
4) Various Artists
Guardians of the Galaxy Awesome Mix 1
5) Amy Winehouse (pictured)
Back To Black
6) Rag 'N' Bone Man
Human
7) Pink Floyd
Dark Side Of The Moon
8) The Beatles
Sgt Pepper's Lonely Hearts Club Band
9) Oasis
(What's The Story) Morning Glory
10) David Bowie
Legacy
Overall, the entertainment industry enjoyed a bumper year in 2017, with sales of video games, films, TV programmes, and music all recording growth for the fifth consecutive year.
Disney had the two biggest-selling film titles of the year – with the live action remake of Beauty And The Beast and Rogue One: A Star Wars Story collectively selling more than 2.9 million copies.
DVDs and Blu-Rays both saw a double-digit decline in sales, but revenues from streaming services like Netflix and Amazon grew by 22.2%, and now account for more than 70% of the video market.
According to ERA, the entertainment market as a whole reached a "new all-time-high", generating £7.24 billion last year.
CEO Kim Bayley called it "an historic result" driven by new technology and innovation.
"New digital services are bringing ever increasing numbers of the UK population back to entertainment with 24/7 access to the music, video and games they want," she said.
Follow us on Facebook, on Twitter @BBCNewsEnts, or on Instagram at bbcnewsents. If you have a story suggestion email entertainment.news@bbc.co.uk.
BBC Music homepage
BBC Music News LIVE
Let's Post Your Story on Open Magazine! https://news.artmotion.com/packs/