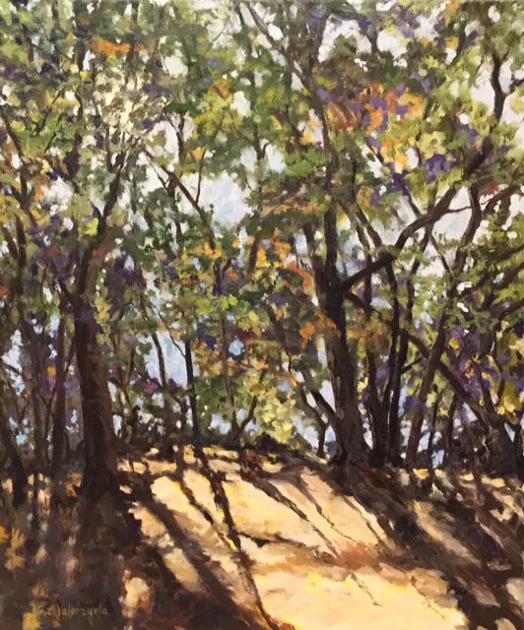 For the first First Friday of 2018, everyone is shaking off the chill for a lively presentation of art, dining and entertainment. Here's a look at some of what's on tap.
Laura Valenzuela is the featured artist at the Bakersfield Art Association Art Center with her exhibit "Natural Inspiration." The series of oil paintings showcase mountain scenes throughout Kern County.
Valenzuela began oil painting 10 years ago, turning the hobby into an full-time endeavor. The Ojai native takes inspiration from the area's mountains and majestic oak trees, which influenced her love of nature.
An artist reception will be held from 6 to 8 p.m. at the art center, 1607 19th St.
Also at the BAA Art Center Friday is local group All Tangled Up, which will have a table to demo Zentangle, an artistic method of creating images with structured patterns that is meant to relax the artist.
The BAA will also host a show at Dagny's Coffee Co. featuring the work of Joung Hee (Emily) Won. Her exhibit, titled "The relationship between formal elements and special effects," is a collection of mixed-media art. Starting with spontaneous drawings, she turns those into copper wire sculpture. Some of those wire works have been incorporated into art photographs.
Won's reception will run from 6 to 8 p.m. at Dagny's, 1600 20th St.
Accomplished painter Keith Wicks returns again to his hometown to display his collection "30 Days in Italy." The exhibit opens Friday at Metro Galleries, 1604 19th St. In addition to the local display, gallery owner Don Martin will showcase some of Wicks' work in Avila after Friday's opening.
The Bakersfield Museum of Art (1930 R St.) will also celebrate First Friday, offering free admission from 10 a.m. to 8 p.m. With the winter exhibition opening Jan. 25, this might be your last chance to see Gwynn Murrill's "Early Wood Sculptures 1968-1985," which closes Sunday, and Javier Carrillo's "Nuestros Ojos," which closes Jan. 14. Astrid Preston's "Poetics of Nature" will remain on display into April along with the winter collections.
Locale Farm to Table (1723 18th St., Suite A) will keep things cooking Friday night, offering dinner for the first time from 5:30 to 8:30 p.m. Those who want to work up an appetite can get crafty, making creative coasters from 6 to 8 p.m. Cost for the activity is $20, which includes supplies and instruction, and advanced registration is required (call 322-9090). Adding a third creative element to the mix is Mauro, who will provide the evening's soundtrack from 6 to 8 p.m.
Those hungry for some good ol' red meat for a good cause can swing by the American Legion Post 26. The veterans organization will offer a First Friday meal consisting of a tri-tip sandwich, chips and a soda for just $8. Dinner will be served from 5:30 to 9 p.m. at the post, 2020 H St. Call 324-9453 for more details.
Let's Post Your Story on Open Magazine! https://news.artmotion.com/packs/