Melani Setiawan is an art collector who is passionate about growing the nation's arts scene.
On a rainy day in Yogyakarta, visual artist Edo Pillu was visited by a woman from Jakarta, who arrived soaked to the skin on her motorcycle. The guest was none other than Melani Witarsa Setiawan, a physician and good friend who collected his works.
For Edo, Melani is not just any ordinary collector. The Sovereign Asia Art Prize in Hong Kong recognizes Melani as a top collector of Indonesian fine art.
Ibu Mel, as she is commonly called, is an ardent collector of domestic and foreign fine art who also has very intense ties with artists. Her house is open to them, especially those building their career with limited resources. When any of them are ailing, Melani, who specializes in ultrasonography, offers free treatment.
Oky Rei Montha, a young visual artist whose works are influenced by horror, folkloric and surrealistic literature, said he would never forget her.
"The many paints she gave me were so valuable, as I was still financially limited. I'm grateful to Ibu Mel, the mother of fine art in the archipelago."
Several testimonials were presented at recent art exhibition Saya Datang (Here I Come) at Taman Budaya Yogyakarta last November. It featured 70 works from the collection of Melani. Accompanying the paintings were the testimonials and photographs of the artists with Melani.
A number of artists whose works were shown attended the opening of the event on Nov. 5, 2017 to reflect on their artistic journeys and creations. Unsurprisingly, an intimate atmosphere prevailed on the occasion, like a family gathering.
At the age of 72, Melani said she wanted her collection to be accessible to the public. To this end, she sought the help of Sakato, a community of visual artists from West Sumatra who live and work in Yogyakarta, to help set up Rumah Melani (Melani House), which will function as a museum.
"To be frank, when Ibu Mel expressed her vision, we got confused over how to make it happen," said Bayu Whardana from Sakato.
Erizal, a visual artist and chairman of Sakato, said his community was honored to have been given the responsibility of developing the museum.
Saya Datang displayed only a small part of the collection, which, according to the team, comprised 900 to 1,000 paintings, drawings and sculptures.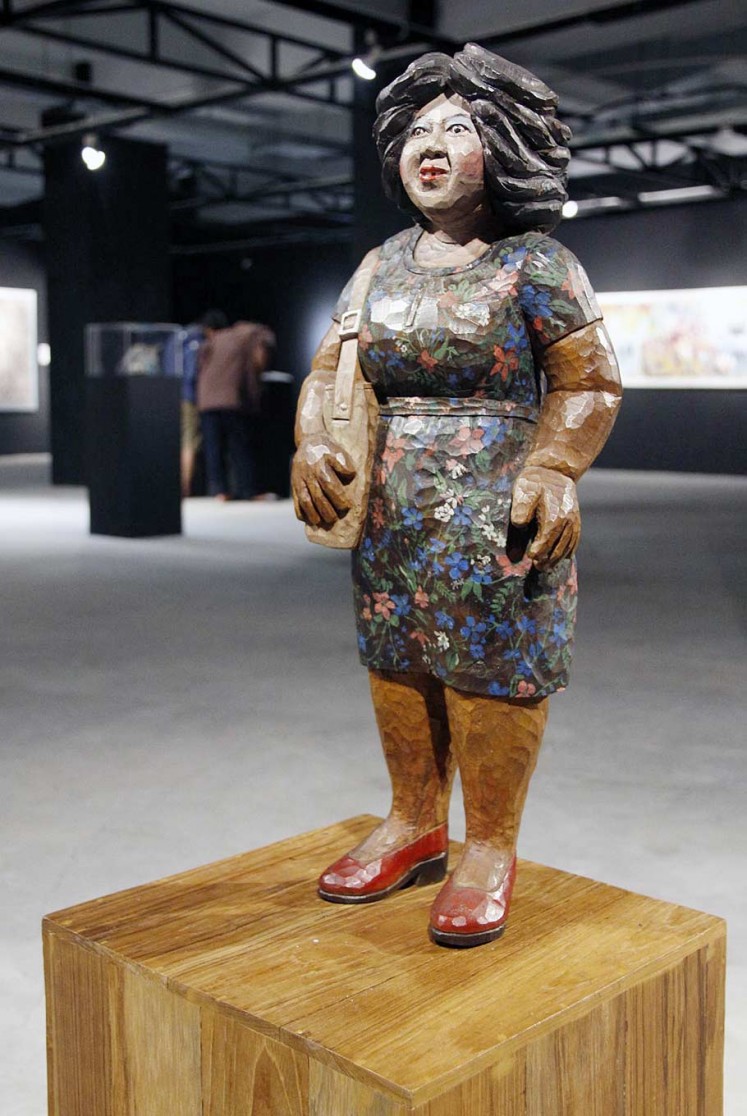 Part of history: A sculpture titled Dolly, by Abdi Setiawan, is displayed at the recent Saya Datang exhibition in Yogyakarta. (JP/Syamsul Huda M. Suhari)
When visiting fine art exhibitions or meeting with artists, she never fails to take pictures and even sends photos to the artists. In 2011 alone, Melani's photo collection reached a total of 45,000 photographs. Today, most of the collection has been moved from Jakarta to Yogyakarta. It took nine trucks and 62 boxes to transport the artwork and archives. The Indonesian Record Museum has listed Melani's photo archives as the most comprehensive in the country.
Konfir Kabo, a young collector from South Sulawesi living in Melbourne, Australia, supports Melani's plan to open a museum, saying her perseverance in promoting art was inspiring.
"There's no figure as complex as her in fine art, both in Southeast Asia and even in the world, with her truly diverse collection," he said.
Melani has unique relations with visual artists and acquires artwork by directly approaching them. But many of them hand her their work for free. Gusmen Heriadi, who manages RuangDalam art house in Yogyakarta, was once asked by Melani to contribute a drawing on a piece of paper. Instead, Gusmen sent her an acrylic painting on canvas.
"Ibu Mel was surprised. She asked how much she had to pay. I said I just wanted to give it to her," he said.
Anton Rais Makoginta, a curator at Saya Datang, said that, with Melani's random, diverse collection, it was difficult to define her role in the art world.
"She wasn't a critic either, but she had given a lot of input to artists," he noted. "Nor was she an archivist, but she meticulously maintained various fine art documents."
Some people call her the "mother of Indonesian fine art" while others dub her the "doctor of art." As for Rumah Melani, according to Anton, it would more than just house important works, as it would chronicle Indonesian contemporary fine art.
Despite all of the accolades, Melani prefers to be known as an art lover. The mother of three and grandmother of five said her love for art grew naturally, without influence from her family. Her father, Endang Witarsa, was a doctor as well as the former Indonesian Soccer Association (PSSI) coach.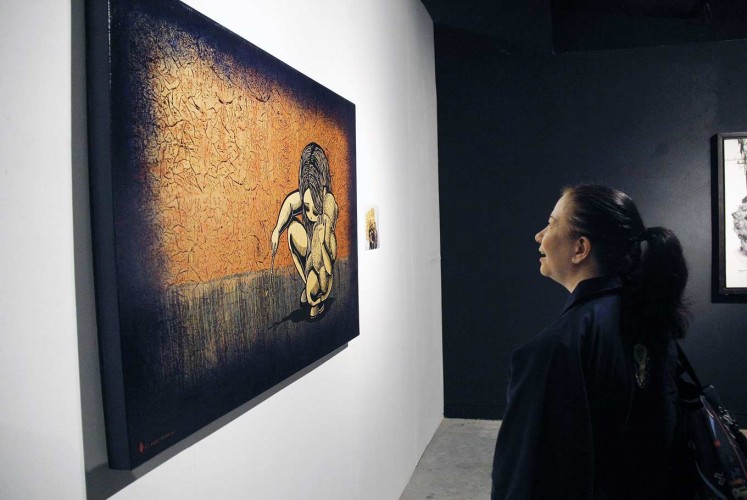 Worth a thousand words: A visitor takes a closer look at a painting by AC Andre Tanama at the recent Saya Datang (Here I Come) exhibition in Yogyakarta. Melani Witarsa Setiawan's collection of paintings is diverse, consisting of various styles and techniques. (JP/Syamsul Huda M. Suhari)
She first bought a painting in 1977 without any knowledge of art in Ancol, North Jakarta. Entitled Burung di Pepohonan (Birds on Trees), the paper painting by Idran Yusuf is still kept in its original frame.
"It was just to decorate our house, as a young family," Melani told The Jakarta Post in an interview at a hotel in Yogyakarta.
In 1981, her uncle, also an art-loving physician, took her to visit expressionist painter Suyono DS, who had a stroke. Since then, Melani, who got her PhD at the University of Rijeka, Croatia, in 1992, has built strong relationships with local visual artists. To date, 98 percent of her collection comes from Indonesian artists.
Most of her collection comes from her artist friends in Yogyakarta, hence her decision to build Rumah Melani in the city.
"Every time I went to Yogyakarta, I felt like I was going home. I could stay with artists there," she said.
Moving forward, Melani hopes to continue collecting art that she has no intention to sell. She never counts how many pieces of art she collects.
"That's not important. Friendship is more meaningful," she said with a smile.
Let's Post Your Story on Open Magazine! https://news.artmotion.com/packs/