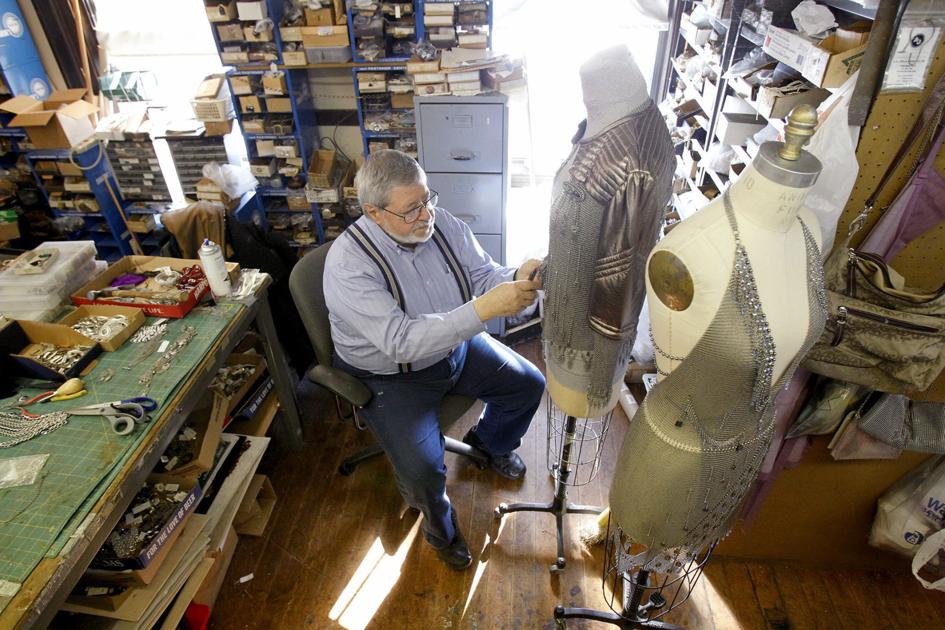 In a third-floor studio above an appliance store in Mansfield, Anthony Ferrara and his wife and partner, Rose, preside over a large collection of sparkling, metal-mesh garments, handcrafted accessories and mementos of a career in high fashion.
Ferrara is the man widely credited for creating the sparkling, often outrageous mesh tops, halters and dresses that shocked the world of women's clothing in the 1970s and '80s and continue to occupy a unique niche in the fashion world.
His pieces have sold for $7,000 and more, and famous customers range from Elizabeth Taylor to Barbra Streisand to Cher.
Made up of thousands of plated or colored metal links, the jeweled creations are often described as wearable art. Examples of Ferrara's fashions along with other artwork will go on display Jan. 19-21 at the Artist's Studio and Gallery at Patriot Place.
Metal mesh had been used for decades on consumer products like women's handbags before Ferrara recognized its potential for making uniquely form-fitting garments with a glow all their own.
"Mesh is more sensual than fabric," said Ferrara, 77, who makes Mansfield his home. It only needed a fresh eye to see its fashion potential.
"Before me, people used mesh for what they wanted it to do. I let mesh do what it wanted to."
What it did best was complement a woman's body in a sparkling manner that was guaranteed to garner attention.
A dress Ferrara created for local mesh producer Whiting and Davis created a sensation that led to orders for products from around the world. He eventually became the exclusive designer for the company's ready-to-wear line.
Ferrara estimates tens of thousands of his designs, from cowls to earrings, have been sold. His designs have also been featured on the pages of Cosmopolitan, Vogue, Harper's Bazaar and other glossy magazines.
In 1990, Ferrara was commissioned to create an exclusive design for the Absolut Vodka ad campaign. The stunning result was a $532,000, 18-karat solid gold dress, advertised as "Absolut Fashion."
The local designer said he is the only artist commissioned to do more than one piece for Absolut.
While Ferrara is best known for his fashion prowess, he approaches all art with the heart of an explorer. Besides mesh clothes and jewelry, he creates decorative pottery and stained glass panels and art objects. He also used to create blown glass but said studio time became too expensive to continue in it.
Some of those Ferrara glass works will also be on display at Patriot Place.
"I like to create things with my hands," Ferrara said. "It gives me peace. When I'm creating something I could give a darn what goes on around me."
Handcrafting artwork isn't the only calming influence in his life. His wife, 75, is his business partner and constant companion, keeping him humble by ribbing him about the glasswork accumulating around their home.
"She does all the bookwork," Ferrara said. "She keeps me in check."
Ferrara's artistic journey began as a child when his mother got him a paint-by-number kit.
Later he studied at the School of Fashion and Design in Boston. After a two-year hitch in the Army, he and his wife moved back to Mansfield.
The couple raised two sons, Matthew and Jason, and now have three grandchildren.
While Anthony is still creating jewelry and fashion accessories for exclusive showrooms and private customers, he and Rose have been gradually downsizing, with thoughts trending toward retirement.
"After all," Rose said, "we have to have some time for ourselves."
In life as well as in art, Anthony said he has much to be thankful for.
"God has been good to me."
If you go …
WHAT: Exhibit and sale of Anthony Ferrara's fashions and other artwork
WHEN: Jan. 19-21
WHERE: Artists Studio and Gallery, 2 Patriot Place, Foxboro
GALLERY HOURS: Friday 5-9 p.m., Saturday 1-9 p.m., Sunday noon-6 p.m.
MORE INFO: fashionmesh.com
Let's Post Your Story on Open Magazine! https://news.artmotion.com/packs/