You may not know his name but chances are you know the face and have seen him on TV over the last several years. Jason Kravits has had roles on many prominent shows like Friends, Curb Your Enthusiam, The Practice, Law and Order, Everybody Loves Raymond, 30 Rock, Blue Bloods and many more. He grew up in Gaithersburg attending Magruder High School then the University of Maryland where he started up an improv group that still exists today. Kravits is back in town this week for a one-man improvised cabaret show at the AMP in Rockville. He joined Joe Yasharoff for this week's episode of MoCo's Most Famous.
Available Now on MyMCMedia, Overcast, Apple Podcasts, RadioPublic, Spotify, Stitcher, Facebook, Pocketcasts and Twitter.
Subscribe now. Stay up to date on news in Montgomery County.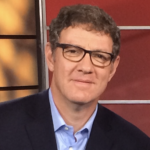 About Joe Yasharoff
Joe Yasharoff is MCM's Director of Content and Operations. He is also an adjunct journalism professor at the University of Maryland. Previously, Joe was the Managing Editor at NBC Sports Washington and Executive Sports Producer at FOX5 (WTTG-TV). He hosts the MoCo's Most Famous podcast for MCM.