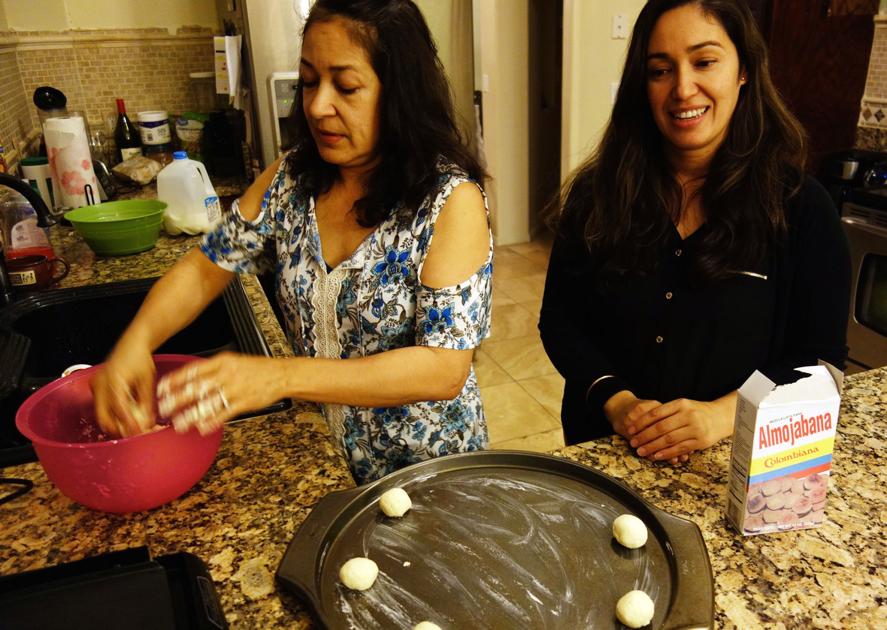 While many of their neighbors polished off the remnants of their traditional holiday season tamale-making, Ana Bustos watched as her mother Leticia Celichowski formed dough, cotija cheese, eggs and butter into round balls and placed them into the oven of their Rio Rico home last Thursday evening.
They were creating "pandebono," a popular snack from their home country of Colombia.
"We ate those every day while in Colombia," Bustos said. "Biting into it is like a memory, plus it tastes so good: pure cheese and bread."
Bustos, 34, moved from Cali, Colombia to the Illinois-Wisconsin border when she was 16. She relocated to Santa Cruz County in May 2016 after taking a job with the Town of Sahuarita.
Here, she joined a community where more than 80 percent of the population identifies as Hispanic or Latino, according to the U.S. Census. But she was still part of a minority.
Predictably, given the county's location on the border with Mexico, the large majority of local Latinos are of Mexican descent. A far smaller number – approximately five percent of the area's total population – trace their ancestry to countries such as Colombia, Cuba, Venezuela, Chile and Guatemala, as well as the U.S. territory of Puerto Rico.
Despite their different backgrounds, Bustos, Celichowski and other non-Mexican Latinos in Santa Cruz County said they feel welcome and connected to the local Mexican culture, and enjoy swapping linguistic and cultural traditions. And while they are few in number, they remain connected with their culture through food, keeping in touch with family, and following news, sports and pop culture from their ancestral homelands.
Cultural exchanges
Venezuelan-born Yajaira Hawkins, a 60-year-old Sonoita resident, said she mainly engages with her native country by following the news from back home. But she likes speaking Spanish with the local Mexican-American population and learning about their culture.
"We exchange words. I tell them what I say in Venezuela and they tell me what they say in Mexico and it's so interesting because you learn too, other culture, other language, slang," Hawkins said.
She's learned that locals use the word "borracho" to describe a drunk person, while she uses "enratonado."
Hawkins, who retired to Sonoita in 2015 after living elsewhere in the United States and Spain, said she wants to become more involved in Mexican culture by learning about traditional dances, and festivals like Dia De Los Muertos.
Pablo Bustos, a 40-year-old immigration lawyer, was also born in Venezuela, but connects more with Chile, where his entire family is from. Bustos, who was raised in Canada and lived in New York City before moving to Nogales in 2014, said he has to travel all the way to Phoenix to find Chilean food like savory beef empanadas and pastel de choclo, a casserole-like dish made with beef and corn.
Bustos has noticed differences between Chilean and Mexican Spanish, but said it hasn't caused too much confusion for him.
"It's kind of like English from England and English from the United States," he said.
He uses the word "choclo" for corn and "choncho" for pig, while he hears people of Mexican descent use the words "maíz" and "cerdo," respectively.
Different but similar
Rafael Arenas grew up in a multicultural Latino neighborhood in Los Angeles, snacking on "chuchitos" – small tamales eaten as appetizers in his mother's home country of Guatemala – and reading comics and following soccer from Chile, where his father is from.
The 29-year-old personal fitness trainer moved from his hometown of Los Angeles to Nogales to be closer to his finance's family in December 2016. Since then, he's tried to adapt to the local Sonoran lingo, but with mixed success.
"I will try to use a term that's common here and I will use it incorrectly," he said.
He's working on remembering to use the word "alberca" for swimming pool and "nieve" for snow instead of the respective Chilean words "piscina" and "helado."
But the effort goes both ways he said, with his finance's Mexican family accommodating his culture by cooking a rack of lamb on Christmas, which he said Chileans like to eat on special occasions.
"They cooked a rack of lamb just for both of us so that we can feel more like home," Arenas said, in reference to himself and a relative from the Middle East, where lamb is also popular.
Bustos and Celichowski, the Colombians in Rio Rico, like to cook Colombian food, cheer on the country's soccer team and celebrate the South American nation's independence day every July 20, even if it means watching parades on T.V.
And despite important differences, Bustos said, she still feels a connection to the local Mexican culture.
"Some of the food (is) similar, pretty much the same, and the people, personality wise," she said.
Bustos said she's found local Mexicans to be excellent hosts and very humble, just like Colombians from back home.
Bustos said the only cultural trouble she's had so far are offensive jokes about drugs in Colombia, and getting used to spicy Sonoran cuisine.
"That was one of my biggest struggles because we don't eat spicy food at all," she said.
Let's Post Your Story on Open Magazine! https://news.artmotion.com/packs/