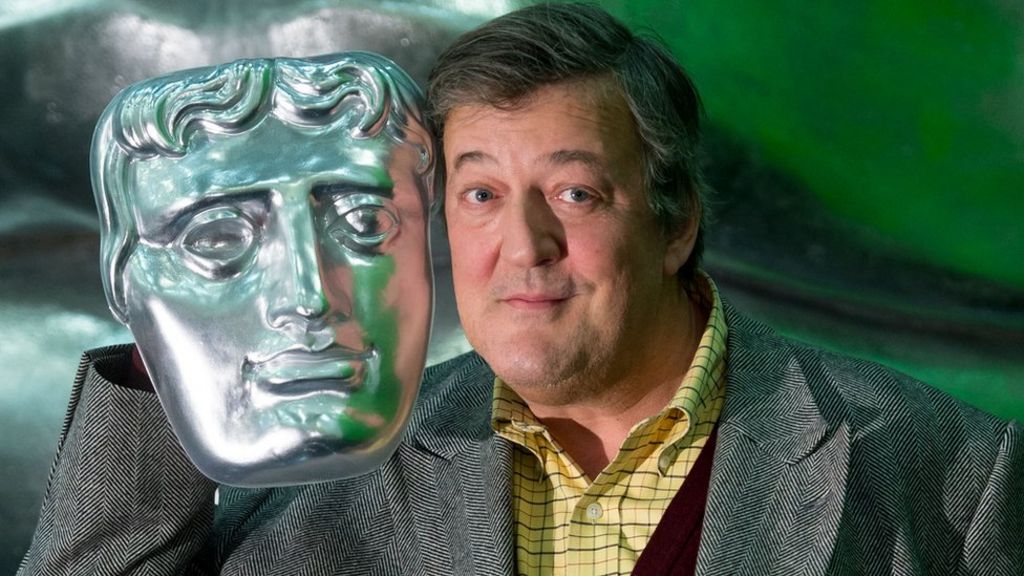 Stephen Fry is to step down as host of the Bafta Film Awards.
Fry, who has fronted the ceremony 12 times, said it was "only right to stand down and let others take the Baftas on to new heights and greater glories".
He added: "What fun it will be to watch Bafta 2018 without my heart hammering, mouth drying and knees trembling."
Bafta thanked him for making the awards "such memorable and joyous occasions". A replacement will be named on Tuesday, when this year's nominees are revealed.
Fry first hosted the awards in 2001, the year Gladiator won best picture, and has become a much-loved fixture thanks to his affectionate and occasionally risque ribbing of celebrity guests.
He had a break from hosting duties between 2007-11.
Who could take over from Stephen Fry?
Jonathan Ross – hosted from 2007-11, between Fry's two stints, but is now an ITV property
Claudia Winkleman – the Strictly star also hosted the BBC's Film… programme from 2010-16
James Corden – a reliable MC who would appeal to the US audience, which is key for Bafta
Richard Ayoade – the comic actor and TV host is also an acclaimed film-maker
Jennifer Saunders – like Fry, a British comedy legend who'd be in her element poking fun at the US stars
Emma Thompson – the three-time Bafta winner could balance comedy and gravitas
Ricky Gervais – another British comedian with a big US presence after hosting the Golden Globes
Graham Norton – chat show king who hosted the Bafta TV Awards for several years
Hugh Laurie – who better than Fry's Golden Globe-winning former comedy partner?
You might also like:
Fry's memorable Bafta moments
He set the tone with his first opening monologue in 2001, which began: "My lords, ladies and gentlemen… and Americans… It is my privilege, my pleasure, my erotic destiny, to welcome you all here."
He warned the gathered celebrities that year: "Winners of awards are, of course, completely free to break down and cry during their acceptance speeches – but do bear in mind that I am also free to vomit."
The following year, his innuendo-laden script – including introducing Orlando Bloom as an actor who "under my stern tutelage and carefully positioned guiding hand found stardom as a rent boy in Wilde" – led the Daily Mail to accuse him of "dragging the Baftas into the gutter".
His knowingly overblown prose was legendary, such as this in 2006: "Let the tiara of joy encircle your brow, and the elastic pantyhose of festivity engirdle your most intimate parts. Comb out the dandruff of despair, and brush in the stardust of dreams. Unroll the red carpet through your hearts, my best of darlings, and tread the flowers of love into its loose but practical weave."
Stroking his beard in 2013, he remarked: "I've a very strong feeling that I'm not the only actor who's come here this evening with a beard."
In 2015, he provoked criticism when he imitated the voice of Professor Stephen Hawking, who had presented an award. "That was really super," Fry remarked in a robotic voice.
After establishing a tradition of persuading an A-list star to pucker up with him, he introduced the Kiss Cam in 2016. The pairs of celebrities that appeared in shot had to kiss – including Dame Maggie Smith and Leonardo DiCaprio.
Also in 2016, he sparked criticism again when he said best costume winner Jenny Beavan had come as a "bag lady". It transpired that they were friends and she wasn't offended, but the storm prompted him to quit Twitter.
Last year, he marvelled at "row after row of the most overrated people on the planet, in their beautiful borrowed evening wear". The camera cut to a laughing Meryl Streep – a reference to Donald Trump's put-down of her as "overrated".
This year's ceremony will take place at London's Royal Albert Hall on Sunday 18 February.
Follow us on Facebook, on Twitter @BBCNewsEnts, or on Instagram at bbcnewsents. If you have a story suggestion email entertainment.news@bbc.co.uk.
Let's Post Your Story on Open Magazine! https://news.artmotion.com/packs/