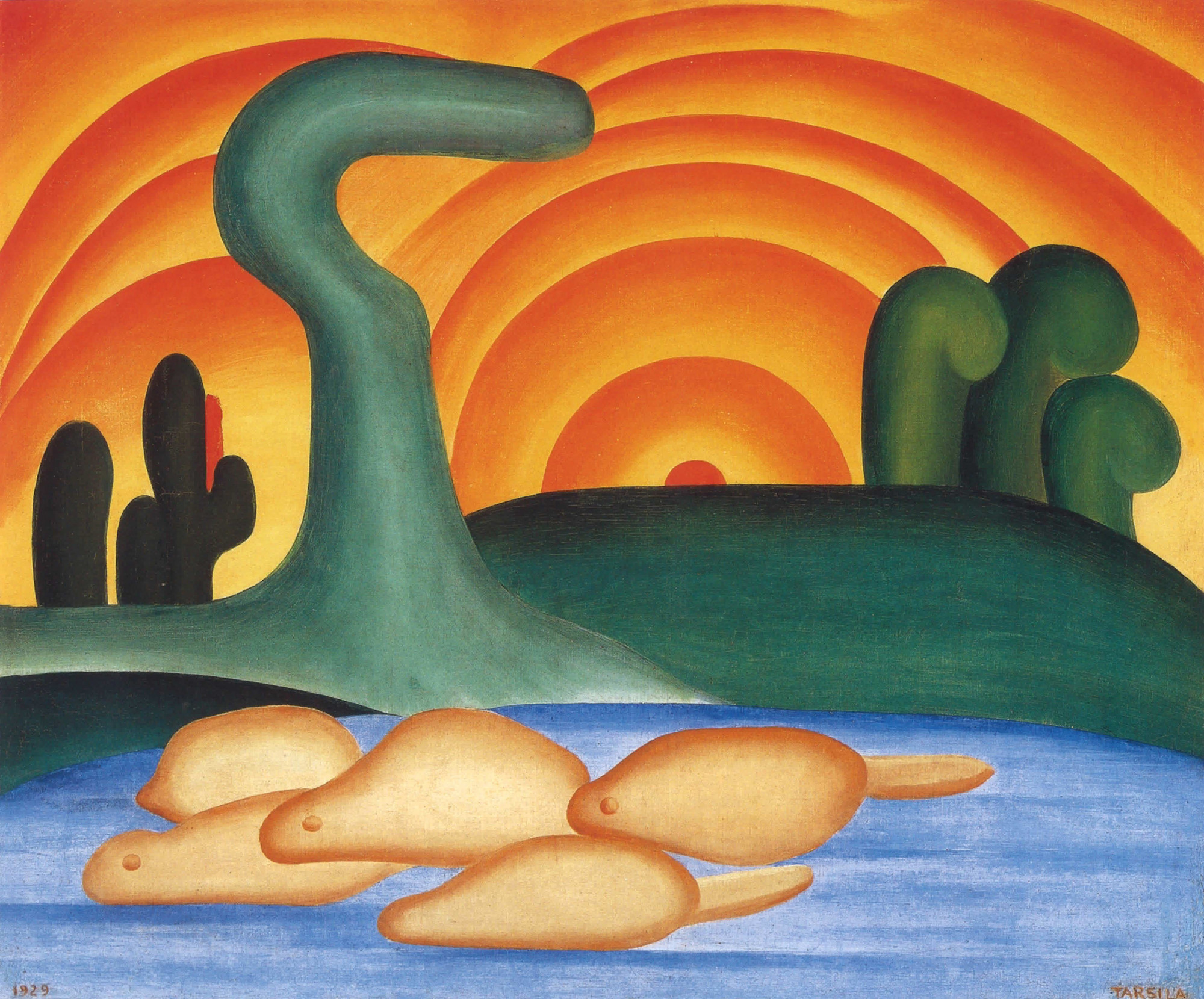 Tarsila do Amaral (Brazilian, 1886–1973) is a foundational figure in the history of modernism in Latin America. The first exhibition in the United States exclusively devoted to the artist focuses on her pivotal production from the 1920s, from her earliest Parisian works, to the emblematic modernist paintings produced in Brazil, ending with her large-scale, socially driven works of the early 1930s. The exhibition features over 130 artworks, including paintings, drawings, sketchbooks, photographs, and other historical documents drawn from collections across Latin America, Europe, and the United States.
Born in São Paulo at the turn of the 19th century, Tarsila―as she is affectionately known in Brazil―studied piano, sculpture, and drawing before leaving for Paris in 1920 to attend the Académie Julian. Throughout subsequent sojourns in Paris, she studied with André Lhote, Albert Gleizes, and Fernand Léger, fulfilling what she called her "military service in Cubism," ultimately arriving at her signature painterly style of synthetic lines and sensuous volumes depicting landscapes and vernacular scenes in a rich color palette. The exhibition follows her journeys between France and Brazil, through Rio de Janeiro and Minas Gerais, charting her involvement with an increasingly international artistic community, and her critical role in the emergence of modernism in Brazil: in 1928, Tarsila painted Abaporu, which quickly spawned the Anthropophagous Manifesto, and became the banner for this transformative artistic movement that sought to digest external influences and produce an art for and of Brazil itself.
The exhibition is organized by The Museum of Modern Art and the Art Institute of Chicago.
Organized by Luis Pérez-Oramas, former Estrellita Brodsky Curator of Latin American Art, The Museum of Modern Art, and Stephanie D'Alessandro, former Gary C. and Frances Comer Curator of International Modern Art, the Art Institute of Chicago; with Karen Grimson, Curatorial Assistant, Department of Drawings and Prints, The Museum of Modern Art.
Major support for the New York presentation is provided by The International Council of The Museum of Modern Art, The Modern Women's Fund, and by the Vicky and Joseph Safra Foundation.
Generous funding is provided by Clarice Oliveira Tavares and by the Consulate General of Brazil in New York.
Additional support is provided by the Annual Exhibition Fund with major contributions from the Estate of Ralph L. Riehle, Alice and Tom Tisch, The Marella and Giovanni Agnelli Fund for Exhibitions, The Contemporary Arts Council of The Museum of Modern Art, Mimi and Peter Haas Fund, Brett and Daniel Sundheim, Franz Wassmer, Karen and Gary Winnick, and Oya and Bülent Eczacıbaşı.
MoMA Audio is supported by Bloomberg Philanthropies.
Let's Post Your Story on Open Magazine! https://news.artmotion.com/packs/